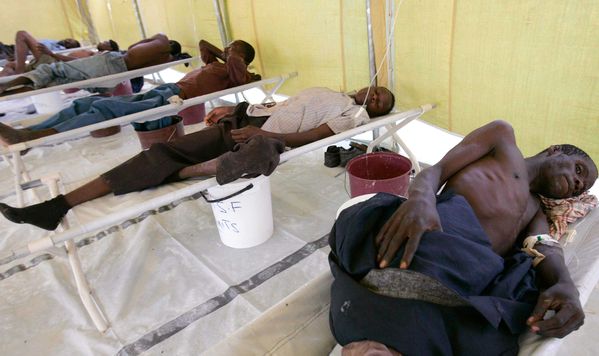 Today CNN reported that more than 100 people died of cholera in Cameroon. The deaths were said to have occurred in the High North region of northern Cameroon and the Governor stated that more than 600 people have been stricken with cholera, Cameroon Health, a local non-governmental organization, puts the number of sick people at closer to 1,500.
What is Cholera? Cholera is a contagious bacterial disease affecting the intestinal system. Symptoms including intense diarrhea and vomiting, weakness and leg cramps.
How does Cholera kills? The bacteria Vibrio cholerae is found in an infected person's stools and vomit. It is spread most commonly through contact with a patient (or their waste) and ingesting the bacteria. This can happen when the hands are contaminated and not washed properly prior to eating. The bacteria can also contaminate food or water. When water is infected this can cause and explosive outbreak.
In the intestine, the bacteria creates a toxin that causes diarrhea and vomiting. A patient under treatment can lose more than 50 liters of fluid during a bout of cholera. If treatment is not given in a timely fashion, fatal dehydration can occur. In severe cases this can take only a couple of hours.
Preventing cholera
There is no effective vaccine against cholera. The only way to fight it is by preventing its spread.
• Wash your hands. This may seem simple but studies have shown that a significant number of people don't wash their hands properly and as such can still transmit diseases like cholera. The US center of disease control recommends this method of hand washing.
Wash Your Hands: The Right Way
When washing hands with soap and water:
• Wet your hands with clean running water and apply soap. Use warm water if it is available.
• Rub hands together to make a lather and scrub all surfaces.
• Continue rubbing hands for 15-20 seconds. Need a timer? Imagine singing "Happy Birthday" twice through to a friend.
• Rinse hands well under running water.
• Dry your hands using a paper towel or air dryer. If possible, use your paper towel to turn off the faucet.
• Always use soap and water if your hands are visibly dirty.
If soap and clean water are not available, use an alcohol-based hand rub to clean your hands. Alcohol-based hand rubs significantly reduce the number of germs on skin and are fast-acting.
When using an alcohol-based hand sanitizer:
• Apply product to the palm of one hand.
• Rub hands together.
• Rub the product over all surfaces of hands and fingers until hands are dry.
• Always wash hands after using the toilet
• Always wash hands before cooking.
• Keep water clean. Do not drink untreated water. Treat water using at least 2 methods: Filtration and boiling or filtration and adding chlorine. (This is a basic overview of water treatment) Keep water containers clean and do not put your hands in drinking or cooking water.
• Cook food thoroughly and eat it while it is hot. Fish and shellfish are a major cause of cholera: only eat them if they are well-cooked. Be careful of raw foods like salads or fruit. Wash vegetables and fruit in treated water before use, or peel them if there is no water. Discourage the habit of several people eating together from a communal food container.
Treating Cholera
Cholera is treatable. The main way it kills is by causing dehydration, therefore the treatment is to replace lost fluid as quickly as possible. Some facilities use oral re-hydration solutions, called ORS. This is a mixture of glucose and electrolytes (such as sodium and potassium). The solution is stirred into a liter of water and provides the correct balance of electrolytes to re-hydrate a cholera patient. It has been said that in global terms, ORS is the most important medical discovery since penicillin.
Some cholera patients cannot keep anything down orally because of the nausea and vomiting so these people should be treated with IV drips. If treatment is proactive and properly addressed then the fatality rate can drop to less than 1%.
For more information on cholera visit http://www.who.int/topics/cholera/en/